National Agape Gift Bags Sock Ministry
How did we get started?
Pastor John McCain Had A Vision A Few Years Ago About Homeless People Living Under A Bridge. In The Vision, One Of The Displaced Individuals Had His Feet Uncovered Outside Of His Tent. Pastor John Thought That If He Had On A Pair Of Socks, He Would Feel Much Better And Warmer. The Pastor Began To Prepare A Ministry To Not Only Make Disciples But To Include A Sock Ministry Where Socks Would Be Given To Those Who Need Them.
Later in 2021, Pastor John later shared his vision with Ms. Janice Euell and Ms. Toni Colwell of the Something to Think About Podcast, who were both touched by the concept of giving socks to the homeless just because we care. From that moment on, the three have been working around the clock producing the AGAPE Gift Bags that we are asking your help with.
21st Century Church of Christ and the podcast, "Something to Think About" have partnered to bring a vision I had to life and that was AGAPE gift bags…literally bags of love we donate to various shelters. For example, they not only include toiletries but little gifts such as women's silk scarves, ponchos, and even pocket foil blankets! And of course, a couple pairs of socks!
The homeless should be treated with dignity and love of neighbor as Christ commanded of us right?
With your donation, you can have one of these bags donated with a personal label from you. If interested email Pastor John at pastorjohn@faithfulchurch.org. Each bag costs $20 or you can pick your own item and quantity to include and donate that item. Please note that items must be delivered to us for storage.
We provide gift bags to the following shelters and organizations:
Easter Seals, DC, MD, VA, Mixed genders
Promise Place, shelter for male and females aged 18 - 20, Seat Pleasant, MD.
Elks Lodge
Martha's Table
Pilgrimage Community Church
And a few other shelters in our local communities!
How Can You Help Us?
If you would like to donate, we'd love to hear from you. The AGAPE BAG is full of gifts that new homeless people receive upon entry into a shelter. We'd be happy to speak with you or even partnering to distribute bags to those who could use a smile and items to make their stay more enjoyable.
Please email our pastor directly to discuss your contribution at pastorjohn@faithfulchurch.org.
*If you wish to donate cash: Click on the GIVE button in the top-right corner of this Site.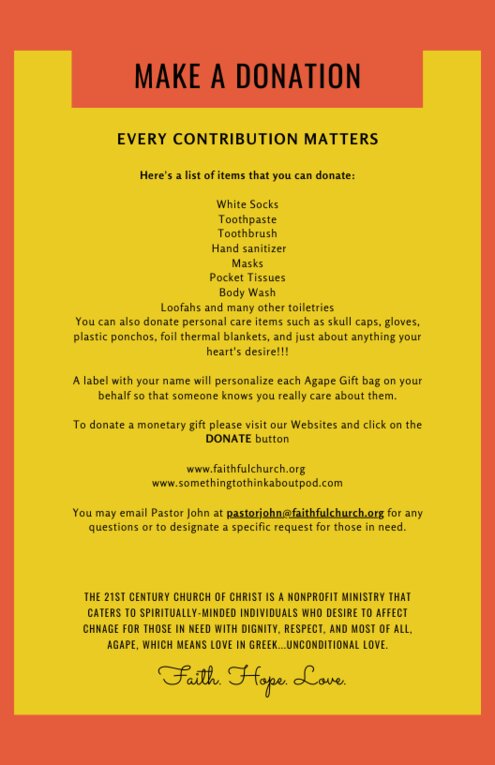 Start Your Very Own Chapter
We are forming chapters so that those of you interested in donating can do so in your area. You will gather supplies and send them to us or inquire how to start donating to those in need in your very own areas. It's as easy as 1-2-3! For more details or to start a chapter, email us at pastorjohn@faithfulchurch.org or sttapod2020@gmail.com. We have started chapters in Webster, TX, New York City, NY, and Atlanta, GA, Washington, DC, and other areas.
Click the button below to view our Official Membership Card.
Click the button below to view the Official Pledge.